Coins of Humbert I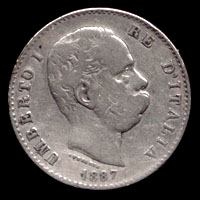 Born in Turin on 14 March 1844 from Vittorio Emanuele II and Maria Adelaide di Ranieri, Umberto I (Humbert I) ascended the throne on 10 January 1978.
He was interested mainly in military affairs and foreign policy. In order to compete with the other European powers, he followed a policy of colonial expansion in Africa, occupying Eritrea (1885-96) and Somalia (1889-1905). The treaty of Uccialli in 1889 recognized the Italian territories in Eritrea and the Italian protectorate in Ethiopia: the protectorate was held until the of Addis Abeba peace treaty (26 October 1896). The Italian protectorate over the Somalia's coast was recognized in 1889.
Umberto I became increasingly authoritarian. Escaping two attempts on his life, he was killed in Monza on 29 July 1900 by the anarchist Gaetano Bresci, due to the repression of the popular risings in 1898; his son Vittorio Emanuele III succeeded him.
The coins minted by Umberto I were essentially the same of Vittoro Emanuele II, with the exception of the taller for the Eritrea colony, that was coined in the Rome and Milan mints from 1890 to 1896.
---
Copyright © ilMarengo.com
All rights reserved